Class 10 – Heredity and Evolution – Notes
Notes
Previous Years Questions
Important Questions
Heredity and Evolution – Notes
Heredity:- The transmission of traits/characters from one generation to next generation is called heredity.
Genetics:- The study of heredity and variation is called genetics.
Dominant:- The characteristics which is expressed in an organism is called dominant.
Recessive:- The trait which is not expressed in an organism is called recessive.
Homozygous:- Homozygous means that the organism has two copies of the same allele for a gene.
Ex:- TT, tt
Heterozygous:- Heterozygous means that an organism has two different alleles of a gene.
Ex:- Tt
Phenotype:- The trait which is visible in an organism is called its phenotype.
Genotype:- The composition of genes present in an organism is called its gemotype.
Difference between Acquired and Inherited traits:-
| | |
| --- | --- |
| Acquired traits | Inherited traits |
| These traits are acquired by a person during his/her life time. | These traits are transferred to the individual from his/her parents. |
| These traits are not passed to next generation. | These are passed to next generation. |
| They do not direct evolution. | They direct evolution. |
| Ex:- Knowledge, body weight etc. | Ex:- Height, eye colour etc. |
Mendel's experiment:-
Monohybrid cross:-
The cross between two plants with one pair of contrasting characters is called monohybrid cross.
Ex:- Cross between a tall and dwarf (short) pea plant.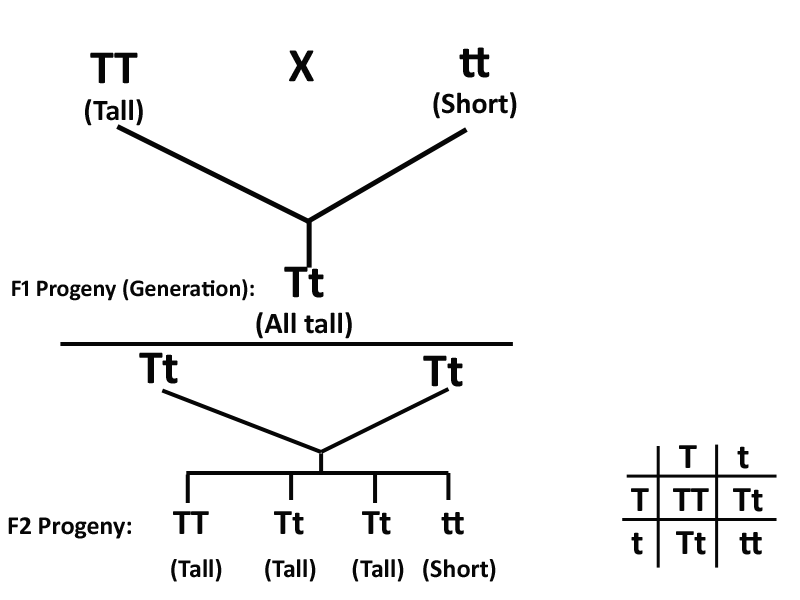 Phenotypic Ratio:- 3 : 1
Genotypic Ratio:- 1 : 2 : 1
Seven pairs of contrasting characters are:-
| | | |
| --- | --- | --- |
| Character (Trait) | Dominant trait | Recessive trait |
| Flower colour | Violet (V) | White (v) |
| Height of plant | Tall (T) | Dwarf/Short (t) |
| Seed colour | Yellow (Y) | Green (y) |
| Seed shape | Round (R) | Wrinkled (r) |
| Pod shape | Inflated | Constricted |
| Pod colour | Green (G) | Yellow (g) |
| Flower position | Axial | Terminal |
Dihybrid cross:-
The cross between two plants with two pairs of contrasting traits (characters) is called a dihybrid cross.

Mendel's laws:-
Law of dominance:- If the set of alleles comes from parent (male and female) to offspring then, the dominant allele is expressed and the recessive allele has no noticeable effect.
Law of segregation:- The two alleles for a character separate during gamete formation.
Law of independent assortment:- The two pair of alleles are inherited independently of each other.
Gene:- Functional segment of DNA which carries information for 1 – protein is called gene.
Sex determination:-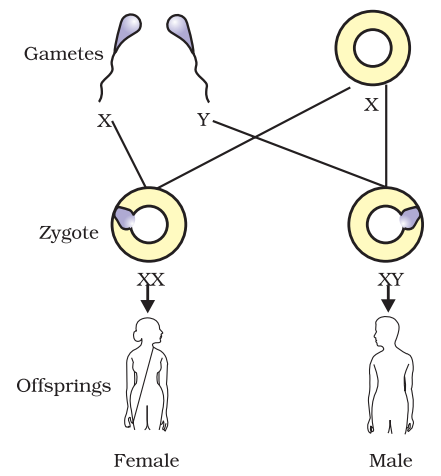 → In human body, there are 23 pairs or 46 chromosomes in which one pair is sex chromosomes.
Evolution:- The sequence of gradual changes that take place in an organism over a million of years and leads to the formation of new species is called evolution.
Speciation:- Origin of new species from the existing one is called speciation.
Speciation can take place through:-
Genetic drift:- Random change in the frequency of allele is known as genetic drift.
Natural selection:- The process by which nature selects more suitably adopted organism is called natural selection.
Geographical isolation:- Geographical isolation leads to reproductive isolation due to which there is no flow of genes between separated group of population. It is caused by mountain ranges , rivers etc.
Homologous organ:- The organs having similar structure but different functions are called homologous organ. Ex:- Forelimbs of bird and human.
Analogous organ:- The organs having different structures but similar function are called analogous organs. Ex:- Wings of bird and bat.
Fossils:- The preserved traces of living organism are called fossils.
Methods to estimate the age of fossils are:-
Relative method:- On digging, the fossils which are closer to the surface are more recent than the fossils found in deeper layers.
Dating method:- The method of estimating the age of fossil by detecting the ratios of different isotopes of the same element in the fossil is called dating method.